21 things that might make life a little less stressful in the time of Coronavirus
I've been quiet, really quiet the last 10 days or so, watching the world unfold like something out of a zombie movie. I've been prepped for a Zombie apocalypse since forever – I've trained in Muay Thai, have bottles of water stashed away in a kitchen cupboard, figured out an escape route to get to the Isle of Man (I'll come get you first, if you need me to) but now faced with the reality of this attack – not from zombies but from an unseen enemy – I've been quiet. Behind the scenes, I've been helping our photographers and current clients navigate our way through the practicalities of postponing, cancelling, rescheduling shoots. I've been looking after myself, keeping my spirits up but out there – on social media as me and as Hey Saturday – I've been quiet. Looking on in wonder and with anxiety at what's been happening but not quite knowing what to say or do. I've felt frozen to be honest.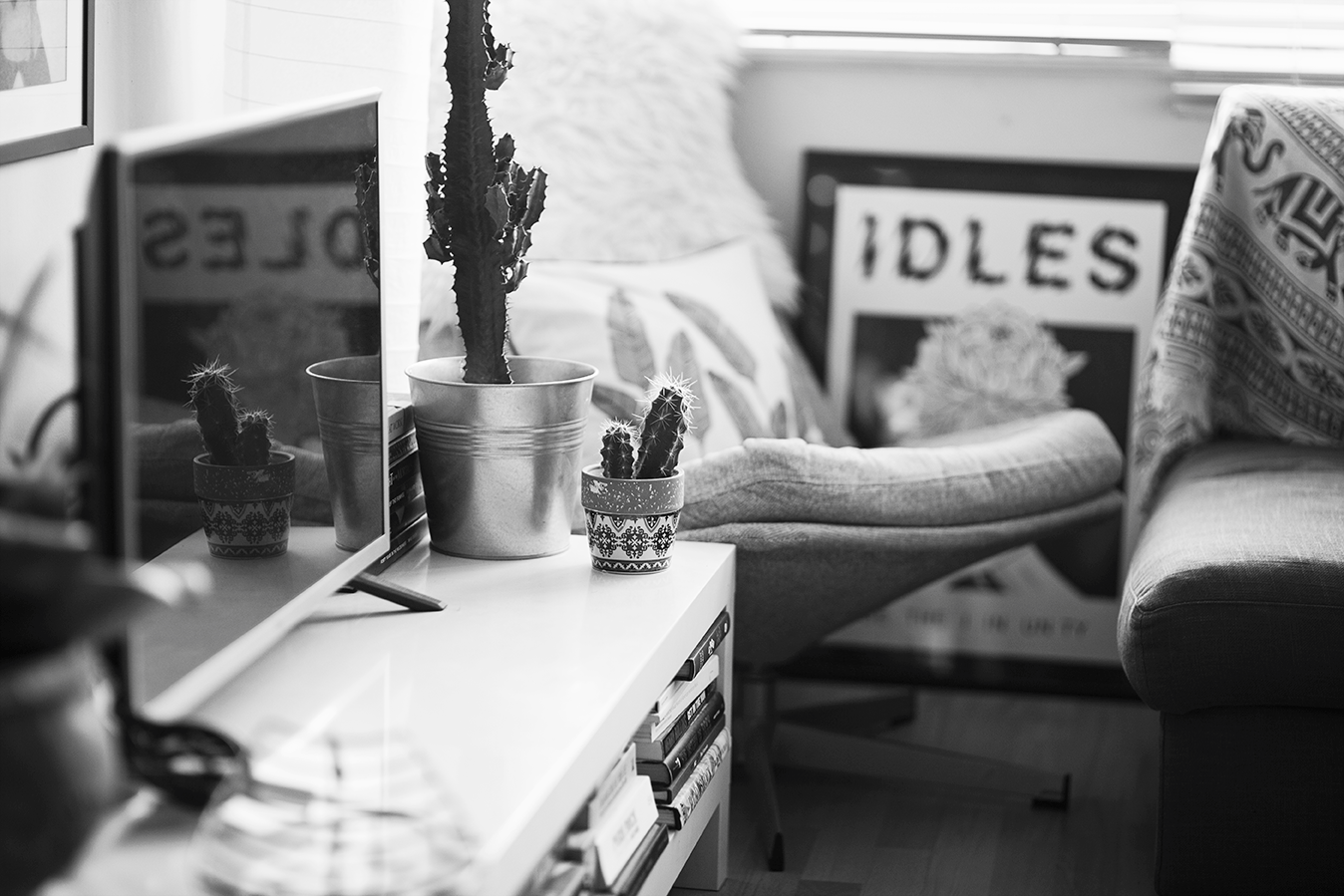 I still don't know what to say or do really, it's all a bit overwhelming, but I'm starting to unfreeze. I've been surfing the net during this time trying to make sense of it all. I haven't, of course, made sense of anything… but I have come across some stuff, that I think is pretty cool – stuff that might inspire you, make you laugh or just help make you feel a little less anxious. So I thought I'd share it with you guys, in case you find it pretty cool too.
Love, dating and connecting 
01. If you're looking for creative ways to date right now, you could check out what Nina had planned for her first date with a guy. I love this, it genuinely made me smile (in what felt like a long time). If you want to find out what actually ended up happening (it's lovely) follow the thread here.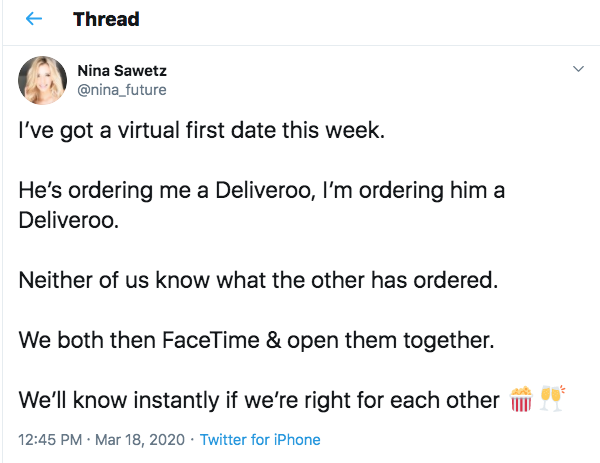 02. Self-love in the time of corornavirus takes on a whole nuther meaning! If you're self-isolating on your own, head here to get your free vibrator. Surely this is one not to be missed. Be quick though, stock is running low at the time of writing.
03. If you're single, you might want to sign up for The Single Supplement, created by freelance journalist, Nicola Slawson. She has created a Facebook community of single people and she writes this weekly newsletter packed to the rafters with inspiring, informative and cool articles and tips relating to living your best single life.
04. This guy's dating app profile tho' – it's a bit spesh.
05. I love these tiny love stories from the New York Times. It features readers stories in 100 words or less. This is perfect if your attention span is shot to shit right now. Hello hello… Bueller? Bueller Bueller?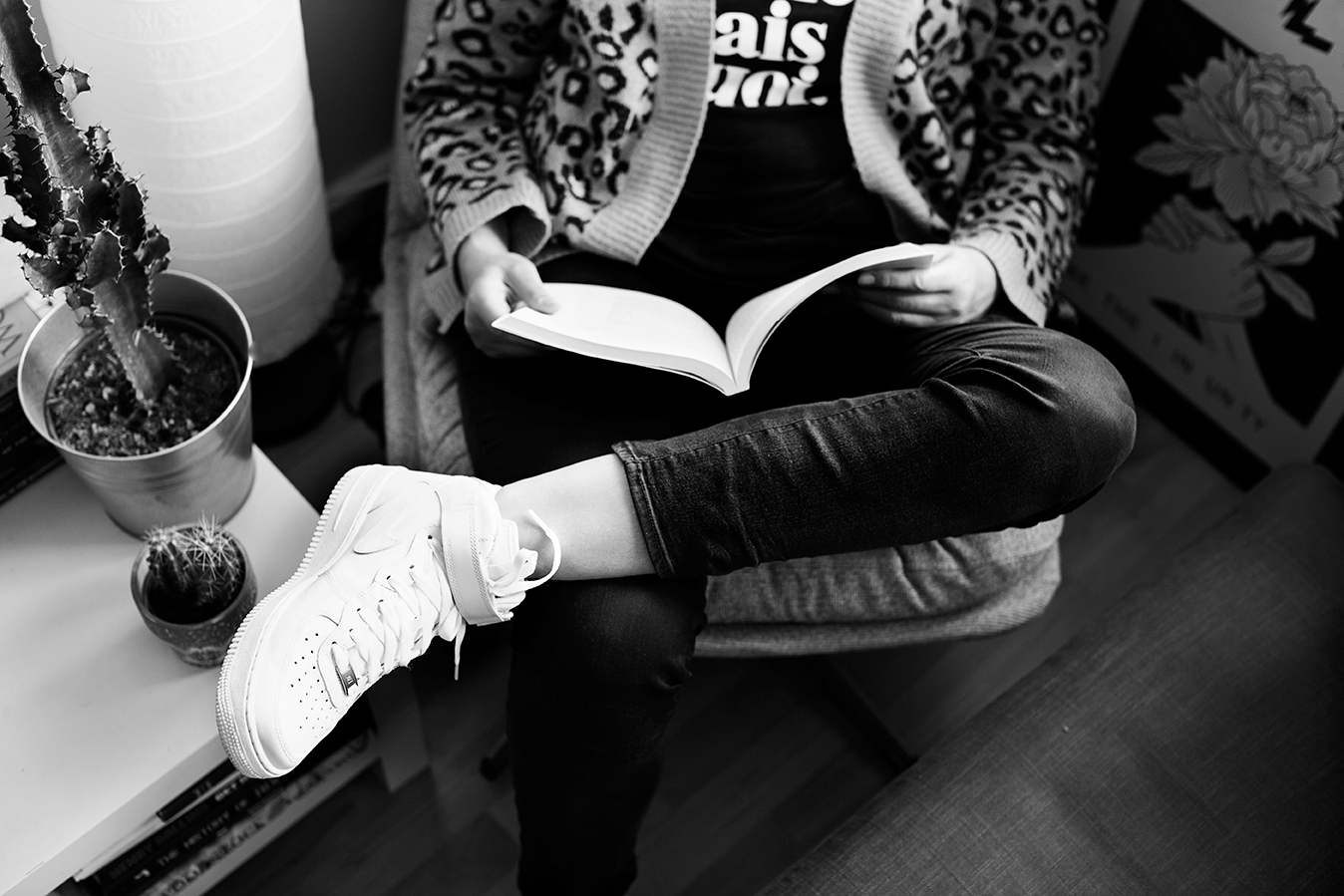 06. I love Shelf Help. I love their brand actually, which is why I've signed up for their newsletters, I'm not actually a member. But I thought I'd share in case you haven't heard of it. Shelf Help is a global platform, book club and community dedicated to self-help and self-development and their bookclub is going virtual for now. You can experiment with new self-help strategies with others from home.
Learning and creating
07. OK, this is seriously floating my boat right now. Head here to learn how to print like that god of all things cool, Andy Warhol.
08. How about cranking things up a notch? You can enrol on 10 university art classes for free right here.
09. And this is really cool too – sign up for this 28 day creativity challenge with The Sketch Book Project.
Dodging the 24 hour news cycle
To minimise my stress levels, I'm being really wary of what I'm listening to or watching. To be fair, I stopped watching the news when I started working for myself and, now more than ever, it's a good time to kickstart an information diet rather than sitting glued to a 24 hour ticker tape of rolling bad news cycles. And definitely give Twitter's 'Trending' section a wide berth, that's enough to induce a panic attack for me these days. I've found that being more mindful about what I do and don't consume has been great for my mental health. And I've just had a hiatus from social media over the last few weeks, which has been really good for me. If you need inspiration for other stuff you might want to consume instead, I can recommend this….
10. I loved this virtual walk through of the Dorothea Lange exhibit at the MoMA.
11. Also great news from the BFI. They had to cancel BFI Flare, the UK's biggest LGTBQ+ film festival, but…. they're putting 230 movies online bringing you 'BFI Flare at Home'.
12. I'm currently reading or have just finished a lot of amazing books – there were too many to list but here's an iPhone pic of them and I'd recommend all of them. These are 5* all the way, baby. And um yeah, I am reading a book by a shaman. My sis gave it to me for Christmas (it's not something I would ever have chosen) and it's surprising good and now, with this crisis, makes even more sense. Seriously.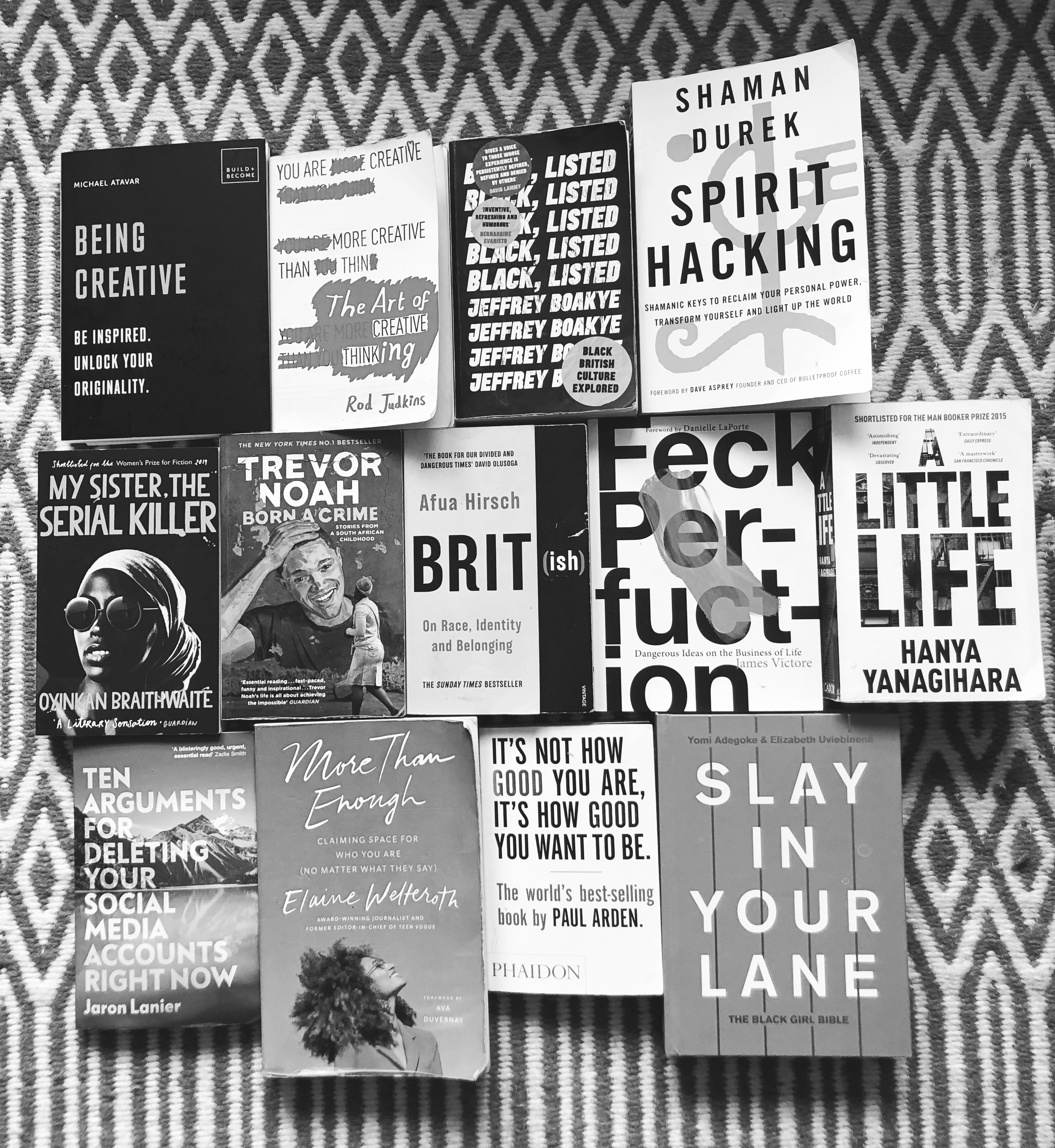 13. And if want to check out some podcasts that might help you if you're thinking about approaching work and life differently now, I put this list together of some brilliant podcasts that help you get your shit together. I wrote this long before the onset of the coronavirus but, if you have time to kill now and want to do it productively, these are great.
Chilling
14. But yeah, that said, we still need to just chill out and watch Netflix with no agenda other than to switch off and relax, right? Check out this cool list of the most anticipated movies of 2021.
Working from home
15. It's been 8 years of working from home for me but this article, The worst things about WFT and weird way to beat them, still made me lol. I'd totally recommend this for anyone who is new to the game and navigating their way through it.
Staying well
16. I love this global mental health live stream by Made of Millions, an organisation that uses the power of art, media and digital technology to transform how the world perceives mental health.
17. Worrying about your fitness levels? You could always do what this guy did and run a marathon on your balcony! His only comment was 'the course was ugly, no atmosphere'.
18. Worried about all the negative thoughts taking over your brain right now? I love this article from my super smart friend and all-round amazing person, Francesca Hogi
19. And if you want to learn to deal with uncertainty better, you might want to check out this article or even sign up for a free trial of uncertainty training, called Fall in Love with Uncertainty… wait what now?? Yes, it's a thing.
20. If you're self-isolating alone, one of Giles' friends has created a new free Facebook group, The Single's Sanctuary; connect to the loving safe space within. It's a space to support single people during these challenging times.
21. Finally, need some tunes to chill you out. Rainy Days in Tokyo is my current fave when I'm feeling stressed.